Literal blog post introduction: There are lots of social media sites. I categorised a few. I joined some. Read this if you're interested. Click some links. Smile.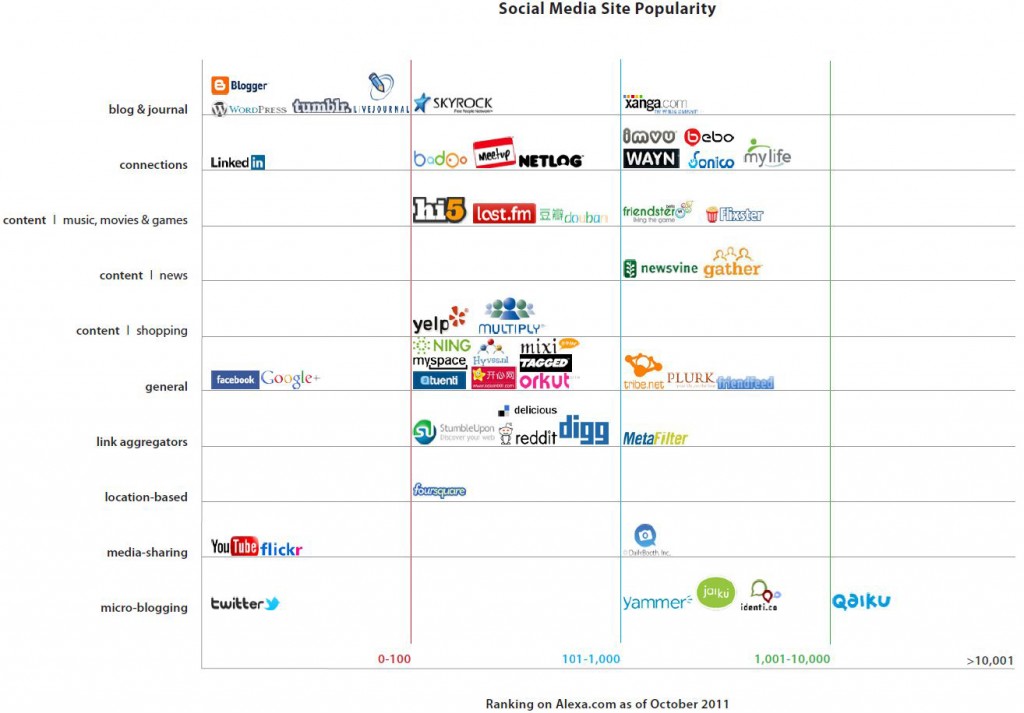 A taxing taxonomy
I started looking into social media sites for a personal project, asking: Who are the players? What types of sites exist? What is their relative traffic?
Once I started looking, I also asked about: login process, form validation, features, privacy, terms and conditions, company size and structure, funding models, rate of growth, value propositions, popularity, technology stack, approach to moderation (copyright, adult content, illegal content), and more.
My documentation at this point is limited simply to the sites and a few links.  A few disclaimers before the sites and more disclaimers…
First, taxonomies have been done before. Many are prettier, and I do not address tools used with social media.  However, as I have mentioned before: if I have not done it, then it has not been done.
Second, I acknowledge those who say ranking by Alexa is a waste of time and those who use the information are morons. Some say there is some relevancy when comparing similar high-traffic sites. I say more about this in the disclaimer at the bottom of this post.
Third, the time spent formatting my research for public consumption could have been spent on something more meaningful. As it is, I struggle with an internal paradox of supporting the propagation of a medium I hold in critical view. Social media channels have the potential to drive community, but can be perverted by two factors: 1) inappropriate expression of the commercial mandate that can manipulate intent; and 2) the expression of personal character deficiencies allowed through anonymity.
However, one should be knowledgeable about fields in which they both promote and of which they are critical and hope to improve. My post allows me to capture my thoughts for future reference and may be of interest to those not immersed in the field.
With these substantial caveats in mind, the sites are below. If you are a member of any of these, please feel free to find, friend, fan, follow, or whatever other fun "f" word applies to the respected site. If there is some glaring omission or correction needed, let me know.
Time and inclinatin ran out before I added much more than the logos and links below.  Individual comments may come with the next round.  Enjoy.
Blogging / Journal

The focus is on the user's posts, where the intention is that the posts are done on a regular basis (excluding website static content) and typically of a greater length (excluding micro-posts).Blogger is a Google social media success, rare for the organisation. The WordPress figures do not account for sites that host their own, like this one you are reading. Tumblr touts being easy to use. LiveJournal and Xanga, I am still coming up to speed with.
BloggerWikipedia Alexa rank: 6
TumblrWikipedia Alexa rank: 46
WordPressWikipedia Alexa rank: 77
LivejournalWikipediaAlexa rank: 89
XangaWikipediaAlexa rank: 2794

Connections

The focus is on making a connection between two or more people, as distinct from a site where the focus is on the individual expressing themselves and having the connection be a secondary function.LinkedIn is like professional dating, with job offers in lieu of marriage proposals.  Meetup captures event management with an underlying premise of meeting for a purpose.  IMVU is a quirky 3D chat world, but I would not trust sending my kid in there until she is 30. Being able to purchase intimate positions was kind of odd.  I have not spent a great of time on the other dating sites, although my inbox gets regular love from people wanting to meet me despite my status of "taken" and "not interested".
LinkedInWikipediaAlexa rank: 12
BadooWikipediaAlexa rank: 104
NetlogWikipediaAlexa rank: 285
MeetupWikipediaAlexa rank: 461
MyLifeWikipediaAlexa rank: 1138

WAYNWikipediaAlexa rank: 1401
SonicoWikipediaAlexa rank: 1700
IMVUWikipediaAlexa rank: 2319
BeboWikipediaAlexa rank: 2662

Content-specific

A site where a type of content is provided for the purpose of soliciting interaction, as compared to a site where the content is the focus and the interaction is secondary.A few non-english sites in here to challenge those that think social media is a western culture phenomenon.  Interesting Ted talk on the scale of China's youth engagement here. Other sites revolve around games, movies, shopping, and news.  If you have a common interest, you can have community.
DoubanWikipediaAlexa rank: 113
YelpWikipediaAlexa rank: 171
MultiplyWikipediaAlexa rank: 383
Hi5WikipediaAlexa rank: 567

Last.fmWikipediaAlexa rank: 589
Hyves.nlWikipediaAlexa rank: 765
GatherWikipediaAlexa rank: 2176
NewsvineWikipediaAlexa rank: 2392
FriendsterWikipediaAlexa rank: 3934
FlixterWikipediaAlexa rank: 6286

General

A catch-all for sites that allow personal expression without a stated focus on meeting others or a type of content or functionality, although these are provided.Facebook is thirty-six times the population of Australia.  If it ever falls, it will make a noise. Google Plus, I am not seeing the value. The hype around circles was just noise, as I do not see enough people posting to warrant filtering.  At least MySpace seems to be about the music, giving it some sort of distinction. Plurk has an interesting timeline, although interesting does not translate into useful.  Orkut is another Google platform, which makes me think that along with Google Wave and Google Buzz they just keep trying until something sticks.  Ning is an odd man out as a type of Content Management System for social media.
FacebookWikipediaAlexa rank: 2
MySpaceWikipediaAlexa rank: 103
OrkutWikipediaAlexa rank: 126
MixiWikipediaAlexa rank: 155

Kaixen001WikipediaAlexa rank: 201

TaggedWikipediaAlexa rank: 276
NingWikipediaAlexa rank: 299
TuentiWikipediaAlexa rank: 767
FriendfeedWikipediaAlexa rank: 1116
PlurkWikipediaAlexa rank: 1485
TribeWikipediaAlexa rank: 7120
Google PlusWikipediaAlexa rank: unknown – sub domains not counted

Link Aggregators

Sites that promote interaction around a user's collection of links.Places you can save and share links. I don't have the time myself to surf someone else's distractions, but I hear others find these of value.
StumbleuponWikipediaAlexa rank: 105
RedditWikipediaAlexa rank: 115
DiggWikipediaAlexa rank: 169
DeliciousWikipediaAlexa rank: 305
MetafilterWikipediaAlexa rank: 1540

Location-based

Sites that focus on checking into locations, as compared to sites that have check-ins only as a function.Foursquare stands out as a system focused on check-ins. There may be others. You can read my full thoughts here.
FoursquareWikipediaAlexa rank: 602

Media-sharing

Sites where the interaction is around user-generated non-text media, such as movies or images.Two words: Free content hosting. YouTube needed a big player like Google behind it. I know I am missing some sites here.
YouTubeWikipediaAlexa rank: 3
FlickrWikipediaAlexa rank: 33
DailyboothWikipediaAlexa rank: 4377

Micro-blogging

Sites that focus on short posts, usually limited in character count.An example of a conversation turning into a one-way information push (guilty as charged). Seems only room for one big player, although others try to corner markets, such as Yammer for secure conversations.
TwitterWikipediaAlexa rank: 9
YammerWikipediaAlexa rank: 3608
Identi.caWikipediaAlexa rank: 4401
JaikuWikipediaAlexa rank: 8924
QaikuWikipediaAlexa rank: 42170
Disclaimer
This is not every social media site. It is a random sample. It may not include your favourite.
Categories are subjective. Some sites can be in more than one category. This statement is categorically true.
I used Alexa for relative ranking. Alexa gets stats from people who install Alexa's toolbar. People say Alexa stats should not be used. I used Alexa for relative ranking of similar high-volume sites sites. It was better than the site's self-reported information. It might be better than guessing. Maybe.
Alexa does not do sub-domains. Google Plus is a guess. See disclaimer 3.
I looked at "social media" sites. I described these as "the product of the site is the sharing of personal details or content between two or more people who are not employed by the site". Others use different descriptions. Some of those description use bad words.
This information is based on a snapshot the week of October 3rd. Someone could build an application to dynamically rank and automatically categorise the sites at points in time. I am not that someone. If you are, send me a link.