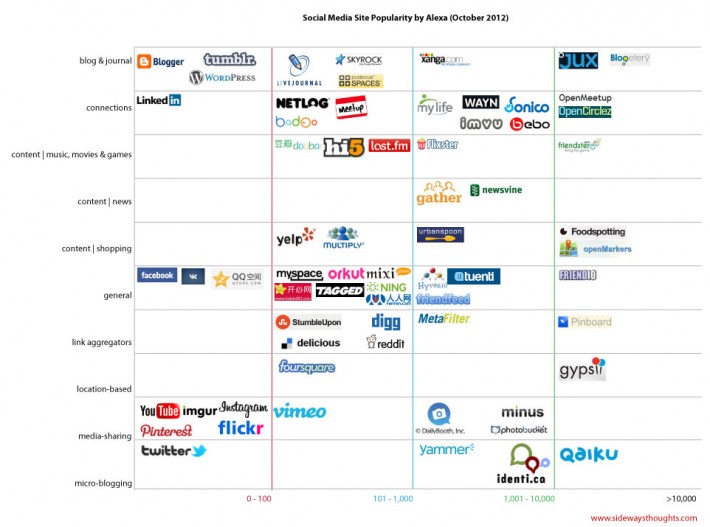 Literal blog post introduction: I released my 2011 incomplete social media taxonomy last year. I updated it this year.  Start-ups, acquisitions, closures, and growth. Read. Be social. Give feedback. Smile.
2011 conditions still apply
First, taxonomies have been done before. Many are prettier, and I do not address tools used with social media.  However, as I have mentioned before: if I have not done it, then it has not been done.
Second, I acknowledge those who say ranking by Alexa is a waste of time and those who use the information are morons. Some say there is some relevancy when comparing similar high-traffic sites. I say more about this in the disclaimer at the bottom of this post.
Third, the time spent formatting my research for public consumption could have been spent on something more meaningful. As it is, I struggle with an internal paradox of supporting the propagation of a medium I hold in critical view. Social media channels have the potential to drive community, but can be perverted by two factors: 1) inappropriate expression of the commercial mandate that can manipulate intent; and 2) the expression of personal character deficiencies allowed through anonymity.
However, one should be knowledgeable about fields in which they both promote and of which they are critical and hope to improve. My post allows me to capture my thoughts for future reference and may be of interest to those not immersed in the field.
2012 Update – deciding what to include and exclude
This year saw some high tech IPOs such as Facebook and Yelp, with most dropping value soon after launch. There is debate as to whether the social bubble has burst and whether Facebook is holding the pin.  Part of the desire of doing this post year on year is to assess the accuracy of pundits and hold myself accountable for my own opinions and observations.
I do not include in my analysis hosted solutions such as Jive Software, which purports to be a social media platform for business although there are criticisms and they posted a US$55.8 million loss on US$77.3 million revenue. The business social space will be interesting to watch, with Microsoft coming to the table with a purchase of Yammer, which Jive argues is a criticism of Microsoft's positioning of SharePoint's social capabilities.
Paid or install-only solutions such as Typepad or Movable Type that can act as social platforms are also not included, although I did include social CMS platform Ning from back in 2011 and I acknowledge Wordpress can be used as a stand-alone CMS solution.
I also do not include sites that have a primary engagement through distributed channels like Facebook. These include troubled social gaming provider Zynga or music subscription services like Spotify or rdio for music.
With the continued growth of mobile, I will start to include solutions that have an app-only expression such as Path and Kilroy even though they will throw off my alexa rankings model. Smartphone growth rate is decreasing, tablet growth is increasing, and laptop and desktop sales decrease. That said, I question whether the time is right yet for an app-only interface to compete with solutions that are across all devices.
I am adding non-English sites on a case by case basis based on my limited exposure and understanding.  China's social media landscape and in particular their Facebook counterparts is a whole other world.
Finally, this does not acknowledge the contingent of open-source distributed social networks such as Diaspora and buddycloud. These alternatives are healthy in a competitive market and can produce innovation. For the short term, it is a movement that is likely to be noted only by the more technically-minded.
 The sites
With these substantial caveats in mind, the sites are below. If you are a member of any of these, please feel free to find, friend, fan, follow, or whatever other fun "f" word applies to the respected site. If there is some glaring omission or correction needed, let me know.
Blogging / Journal

The focus is on the user's posts, where the intention is that the posts are done on a regular basis (excluding website static content) and typically of a greater length (excluding micro-posts).2011:Blogger is a Google social media success, rare for the organisation. The WordPress figures do not account for sites that host their own, like this one you are reading. Tumblr touts being easy to use. LiveJournal and Xanga, I am still coming up to speed with.2012: I gave Tumblr a try, for reasons I talk about here. I then stopped, as I discuss here. I also started a new Blogger blog here called the FIN Review review, but I find the search engine optimisation very poor compared to WordPress and I am unsure if my time commitments will let me keep the site going. I added Skyrock (strong in France), Blogetery (WordPress substitute that uses WordPress, bordering on irrelevant), Posterous Spaces (Twitter-owned version of Tumbler with features like Google Plus Circles) and Jux (quite cool space that is all about the imagery). Jux may have potential, signing up was a cool experience and makes me want to go back… or it may be just like a WordPress theme.
Blogger
Wikipedia
Alexa rank 2011: 6
Alexa rank 2012: 47
My profile
Tumblr
Wikipedia
Alexa rank 2011: 46
Alexa rank 2012: 36
My profile
WordPress
Wikipedia
Alexa rank 2011: 77
Alexa rank 2012: 97
My profile
Livejournal
Wikipedia
Alexa rank 2011: 89
Alexa rank 2012: 118
My profile
Xanga
Wikipedia
Alexa rank 2011: 2794
Alexa rank 2012: 4159
My profile
Skyrock
Wikipedia
Alexa rank 2012: 815
My profile
Blogetery
Alexa rank 2012: 10,381
My profile
Posterous Spaces
Wikipedia
Alexa rank 2012: 906
My profile
Jux
Alexa rank 2012: 68,417
My profile

Connections

The focus is on making a connection between two or more people, as distinct from a site where the focus is on the individual expressing themselves and having the connection be a secondary function. I exclude sites where the connection is specific to romantic relationships, aka "dating sites". Yes, the line is blurry.2011:LinkedIn is like professional dating, with job offers in lieu of marriage proposals.  Meetup captures event management with an underlying premise of meeting for a purpose.  IMVU is a quirky 3D chat world, but I would not trust sending my kid in there until she is 30. Being able to purchase intimate positions was kind of odd.  I have not spent a great of time on the other sites, although my inbox gets regular love from people wanting to meet me despite my status of "taken" and "not interested".2012: LinkedIn is the only site I have visited in the past 12 months. Twitter recently pulled their feed to LinkedIn, which cleaned up LinkedIn's news feed and only strengthened LinkedIn's position in the market. I took down my profile from a few sites because they would not let me have a profile without saying I was looking to meet someone else, placing me in an awkward position with my wife. Many sites are increasingly reliant on advertising dollars, as evident by WAYN which makes my profile look like it is on ebookers.com. I added Hungarian meeting site OpenMeetup which is invite-only and poorly executed OpenCirclez, both of which I question as to whether we will see next year.
LinkedIn
Wikipedia
Alexa rank 2011: 12
Alexa rank 2012: 12
My profile
Badoo
Wikipedia
Alexa rank 2011: 104
Alexa rank 2012: 133
Netlog
Wikipedia
Alexa rank 2011: 285
Alexa rank 2012: 627
My profile
Meetup
Wikipedia
Alexa rank 2011: 461
Alexa rank 2012: 463
My profile
OpenMeetup
Alexa rank 2012: 4,710,067
 
OpenCirclez
Alexa rank 2012: No data
MyLife
Wikipedia
Alexa rank 2011: 1138
Alexa rank 2012: 2047

WAYN
Wikipedia
Alexa rank 2011: 1401
Alexa rank 2012: 1645
My profile
Sonico
Wikipedia
Alexa rank 2011: 1700
Alexa rank 2012: 2675
My profile
IMVU
Wikipedia
Alexa rank 2011: 2319
Alexa rank 2012: 3224
My profile
Bebo
Wikipedia
Alexa rank 2011: 2662
Alexa rank 2012: 4463

Content-specific

A site where a type of content is provided for the purpose of soliciting interaction, as compared to a site where the content is the focus and the interaction is secondary.2011: A few non-English sites in here to challenge those that think social media is a western culture phenomenon.  Interesting Ted talk on the scale of China's youth engagement here. Other sites revolve around games, movies, shopping, and news.  If you have a common interest, you can have community.2012: Sites that deliver content with a social expression are at risk if larger entities like Facebook or Google deliver that same content.  Shopping site Multiply shut down its social networking service based on sites like Facebook better serving those needs. Yelp stocks remain strong, but will always look over its shoulder at the likes of Google+ Local or Foursquare.  Given Yelp's popularity, expect to see similar review sites. Yelp was not offered in Australia this time last year, and it seems to have issue with letting me change my location from Seattle. Additions in 2012 are openMarkers, Urbanspoon and Foodspotting.  Social and gaming has moved to almost exclusively gaming, with this year's Friendster redesign, placing it in the same crowded market as game delivery channels occupied by the likes of Kongregate and Newgrounds.  The next year will be interesting to see what remains in this list.
Douban
Wikipedia
Alexa rank 2011: 113
Alexa rank 2012: 126
Yelp
Wikipedia
Alexa rank 2011: 171
Alexa rank 2012: 229
My profile
openMarkers
Alexa rank 2012: 4,949,499
Urbanspoon
Wikipedia
Alexa rank 2012: 1917
My profile
Foodspotting
Alexa rank 2012: 19,436
My profile
Multiply
Wikipedia
Alexa rank 2011: 383
Alexa rank 2012: 477
My profile
Hi5
Wikipedia
Alexa rank 2011: 567
Alexa rank 2012: 622

Last.fm
Wikipedia
Alexa rank 2011: 589
Alexa rank 2012: 929
My profile
Hyves.nl
Wikipedia
Alexa rank 2011: 765
Alexa rank 2012: 3653
Gather
Wikipedia
Alexa rank 2011: 2176
Alexa rank 2012: 3233
My profile
Newsvine
Wikipedia
Alexa rank 2011: 2392
Alexa rank 2012: 3700
My profile
Friendster
Wikipedia
Alexa rank 2011: 3934
Alexa rank 2012: 15,368
My profile
Flixter
Wikipedia
Alexa rank 2011: 628
Alexa rank 2012: 8259

General

A catch-all for sites that allow personal expression without a stated focus on meeting others or a type of content or functionality, although these are provided.2011:Facebook is thirty-six times the population of Australia.  If it ever falls, it will make a noise. Google Plus, I am not seeing the value. The hype around circles was just noise, as I do not see enough people posting to warrant filtering.  At least MySpace seems to be about the music, giving it some sort of distinction. Plurk has an interesting timeline, although interesting does not translate into useful.  Orkut is another Google platform, which makes me think that along with Google Wave and Google Buzz they just keep trying until something sticks.  Ning is an odd man out as a type of Content Management System for social media.2012: There are now over a billion people on Facebook (Earth's population is 6.9 billion if you need a point of reference). Words like "monopoly" are being used as Facebook starts have people pay to "promote" posts that used to be seen for free.  Google Plus is being called a ghost town due to a lack of demand. Myspace is attempting to reinvent itself under new owner Justin Timberlake and I expect to move it to the content area next year if the new design is launched. Google's Orkut is now linked to Google Plus, to where it asked me to link the accounts (e.g., "upgrade") when I checked out my profile this year. Spain-based Tuenti appears to be opening up to the wider market, although I could not get passed their SMS-based registration system. Russian-based VK also had SMS confirmation, which interrupts the log in process. I still think Plurk is interesting. Interesting does not equal useful. Friendio launched out of alpha in February. It's like Facebook, except without your friends.  I also added Russian social site VK and Chinese sites QZone and Renren.
Facebook
Wikipedia
Alexa rank 2011: 2
Alexa rank 2012: 1
My profile
MySpace
Wikipedia
Alexa rank 2011: 103
Alexa rank 2012: 192
My profile
Orkut
Wikipedia
Alexa rank 2011: 126
Alexa rank 2012: 578
My profile
Mixi
Wikipedia
Alexa rank 2011: 155
Alexa rank 2012: 376

Kaixen001
Wikipedia
Alexa rank 2011: 201
Alexa rank 2012: 265

Tagged
Wikipedia
Alexa rank 2011: 276
Alexa rank 2012: 241
Ning
Wikipedia
Alexa rank 2011: 299
Alexa rank 2012: 464
Tuenti
Wikipedia
Alexa rank 2011: 767
Alexa rank 2012: 1206
Friendfeed
Wikipedia
Alexa rank 2011: 1116
Alexa rank 2012: 1558
My profile
Plurk
Wikipedia
Alexa rank 2011: 1485
Alexa rank 2012: 2016
My profile
Tribe
Wikipedia
Alexa rank 2011: 7120
Alexa rank 2012: 6591
My profile
Google Plus
Wikipedia
Alexa rank: unknown – sub domains not counted
My profile
Path
App only
Friendio
Alexa rank 2012: 1,076,983
My profile
VK
Wikipedia
Alexa rank 2012: 29
My profile
QZone
Wikipedia
Alexa rank 2012: 9? (qzone appears to be a subdomain of parent news site qq.com, much like Google plus is to Google)
Renren
Wikipedia
Alexa rank 2012: 130


Link Aggregators

Sites that promote interaction around a user's collection of links. Places you can save and share links.2011:I don't have the time myself to surf someone else's distractions, but I hear others find these of value.2012: I tend to rely on Twitter and my studio word of mouth to keep up on Internet happenings. That said, link aggregators have come a long way in the past 12 months. Stumbleupon has gone through a couple of redesigns here and here as have Delicious and the Digg. Reddit by comparison has maintained a simplistic design. The Digg relaunch now forces Twitter or Facebook log in, blowing away my previous profile and any notion of a profile page. Pinboard has been around a few years, but the one-time entrance fee is a barrier to me. There are sites like Zootool that I leave off the list due to a perceived focus on bookmarking over social. Grazely is invite only, and may get to the list next year. Pistashio is Twitter-only log in, so will need to wait to next year to see if it is around to make the list.  Link shorteners like bit.ly are adding social elements, but also not on the list.
Stumbleupon
Wikipedia
Alexa rank 2011: 105
Alexa rank 2012: 151
My profile
Reddit
Wikipedia
Alexa rank 2011: 115
Alexa rank 2012: 136
My profile
Digg
Wikipedia
Alexa rank 2011: 169
Alexa rank 2012: 493

Delicious
Wikipedia
Alexa rank 2011: 305
Alexa rank 2012: 539
My profile
Metafilter
Wikipedia
Alexa rank 2011: 1540
Alexa rank 2012: 2214
Pinboard
Wikipedia
Alexa rank 2012: 16,483


Location-based

Sites that focus on checking into locations, as compared to sites that have check-ins only as a function.2011: Foursquare stands out as a system focused on check-ins. There may be others. You can read my full thoughts here.2012: Foursquare still owns the space. Gowalla shut down this year after being acquired by Facebook before I realised I forgot to add them. Whrrl was acquired by Groupon and shut down. Brightkite which is said to have started checkins also closed down. Buzzd closed in 2011 and became marketing tool local-response. Pure location-based without a revenue model is a bit of a challenge.
Foursquare
Wikipedia
Alexa rank 2011: 602
Alexa rank 2012: 867
My profile
Kilroy
Mobile-only
Gypsii
Alexa rank 2012: 1,281,818

Media-sharing

Sites where the interaction is around user-generated non-text media, such as movies or images.Two words: Free content hosting.2011:YouTube needed a big player like Google behind it. I know I am missing some sites here.2012: Pinterest was the big news since the last update, although it was already big by last October.  Instagram was also big news, in particularly Facebook's $1 billion acquisition of the product.  A full comparison of video hosting services is better done elsewhere. A few other image sharing sites have also been added to the list.
YouTube
Wikipedia
Alexa rank 2011: 3
Alexa rank 2012: 3
My profile
Flickr
Wikipedia
Alexa rank 2011: 33
Alexa rank 2012: 58
My profile
Dailybooth
Wikipedia
Alexa rank 2011: 4377
Alexa rank 2012: 6612
My profile
Vimeo
Wikipedia
Alexa rank 2012: 128
Picasa
Wikipedia
Minus
Alexa rank 2012: 1527
My profile
imgur
Wikipedia
Alexa rank 2012: 96
photobucket
Wikipedia
Alexa rank 2012: 171
Pinterest
Wikipedia
Alexa rank 2012: 38
My profile
Instagram
Wikipedia
Alexa rank 2012: 58
My profile (via followgram)

Micro-blogging

Sites that focus on short posts, usually limited in character count. An example of a conversation turning into a one-way information push (guilty as charged).2011:Seems only room for one big player, although others try to corner markets, such as Yammer for secure conversations.2012: Twitter and LinkedIn parted ways this year, resulting in a more valuable LinkedIn new feed. Microsoft bought Yammer for alignment with its SharePoint service as it prepares for competition in the business social space with the likes of unprofitable Jive Software and new startup Zepplin. Qaiku called it quits this year even thought the service remains up at this time. Jaiku also closed it doors after acquisition by Google. There are questions as to whether identi.ca will be around next year.
Twitter
Wikipedia
Alexa rank 2011: 9
Alexa rank 2012: 8
My profile
Yammer
Wikipedia
Alexa rank 2011: 3608
Alexa rank 2012: 3597
Identi.ca
Wikipedia
Alexa rank 2011: 4401
Alexa rank 2012: 7876
Qaiku
Wikipedia
Alexa rank 2011: 42,170
Alexa rank 2012: 16,534
My profile
See you next year!
Disclaimer
This is not every social media site. It is a random sample limited by my inclination and degree of obsessiveness. It may not include your favourite.
Categories are subjective. Some sites can be in more than one category. This statement is categorically true.
I used Alexa for relative ranking. Alexa gets stats from people who install Alexa's toolbar. People say Alexa stats should not be used. I used Alexa for relative ranking of similar high-volume sites sites. Year on year comparisons can be influenced by changes in Alexa reporting population and methodology. Alexa was easier than using the site's self-reported information. It might be better than guessing. Maybe.
Alexa does not do sub-domains. Google Plus is a guess. See disclaimer 3.
I looked at "social media" sites. I described these as "the product of the site is the sharing of personal details or content between two or more people who are not employed by the site". Others use different descriptions. Some of those description use bad words.
This information is based on a snapshot a week in October. Someone could build an application to dynamically rank and automatically categorise the sites at points in time. I am not that someone. If you are, send me a link.