The Australian Federal Government recently announced a $1 billion investment into innovation over the next three years. The vehicle for this investment is the National Science and Innovation Agenda, which outlines over 24 initiatives grouped into four categories: Culture and capital; Collaboration; Talent and skills; and Government as an exemplar.
At one of the government's road show events about the Agenda, questions from the audience came from each individual's perspective:
"As someone involved in accelerators and incubators, how far will the accelerator and incubator initiative go over three years?"
"As a start-up, what programs are for me?"
"As a start-up courting investors, when will the investor programs kick in?"
"How will this benefit regional Australia?"
"How will this benefit Aboriginal and Torres Strait Islander communities?"
"As a business operating in Queensland, how does this align with state-based innovation funding programs?"
"As a social entrepreneur, how will this focus on social enterprise?"
Some of these questions are important to address in the short term, as the announcement of future investment tax relief can have an impact on current investment decisions. Other questions are going to be defined in the lead-up to the implementation of most of the initiatives around June 2016.
Two considerations
Two thoughts came to mind as I reflect on the questions and the broad impact of the Agenda.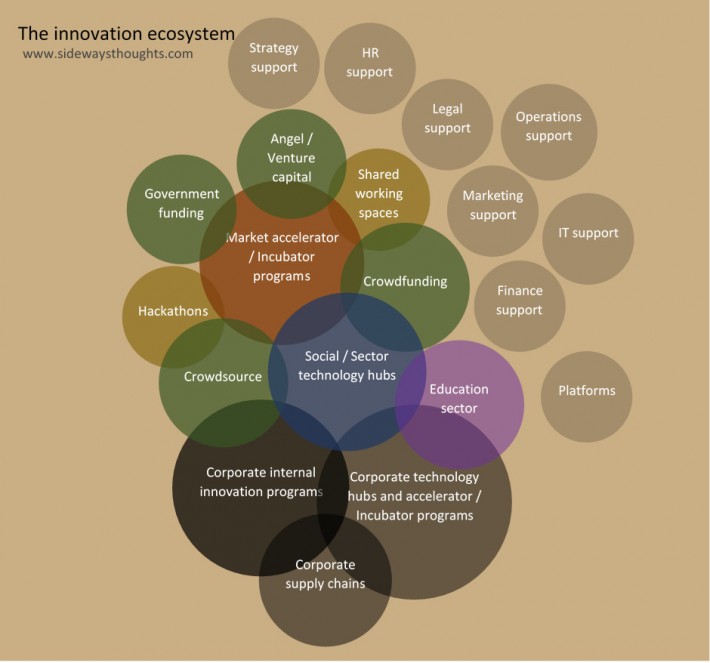 The first thought is that addressing innovation on federal, state and local levels requires a multi-faceted approach. Each individual in the "ecosystem" can see the world through their own lens and could understandably ask "What's in it for me?"  The innovation ecosystem is diverse and involves multiple relationships not bound by traditional contractual agreements. This lends itself to a holistic community development approach that leverages strengths and addresses challenges in multiple areas and at many levels.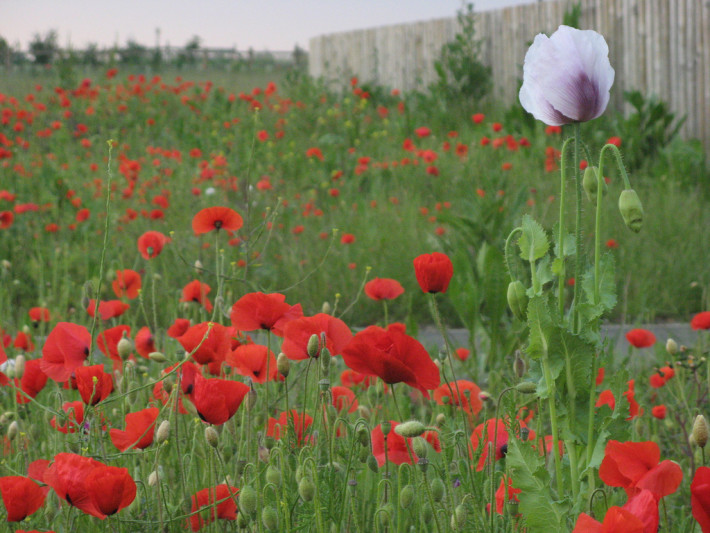 The second thought is that our response to proposed innovation programs matters.  Australian culture is an innovation paradox.  On the one hand, we have an ethos of "just give it a go", "no worries", and "she'll be right, mate". On the other hand, Australian culture can reflect a "tall-poppy syndrome" that cuts down those who are perceived as being more successful than they deserve to be. This has been noted as an innovation inhibitor in recent years by Deloitte and Telstra marketing executives, observed in farmers, and noted by federal ministers driving the national innovation agenda.
Being against someone else's success is not an effective pathway to finding success for ourselves.
We will experience both hype and substance of innovation in the upcoming year. The emerging public and private sector opportunities are exciting. As these opportunities come up, we can consider:
Where we sit in the ecosystem,
Who the initiatives apply to, and
How those in our community can take advantage of the opportunity.
Even if we are in a position to not benefit directly, we can benefit indirectly with the success of those in our business and local community.
Who benefits
With this in mind and considering the diverse perspectives in the room, I reviewed the Agenda in terms of who might benefit from the initiatives. There are some great resources already relating to the program, including the government's own site with itemised fact sheets, start up accelerator BlueChilli in a post that outlines the initiatives by development stage, tax specialists TCF with a focus on R&D tax impact, and a perspective from consultancy PwC.
I need to apply the usual caveat about the information below not being exhaustive. I fully expect there are connections I have not identified. This is the intent of the conversation, to allow the market to interact with the opportunities and identify for themselves how they might apply. My goal is to simply provide something that can help with that conversation.
Update: The original image showed bigger circles for recipients based on the number of initiatives that apply to them. Some thought the size reflected the amount of investment from the Agenda. The image has been updated accordingly.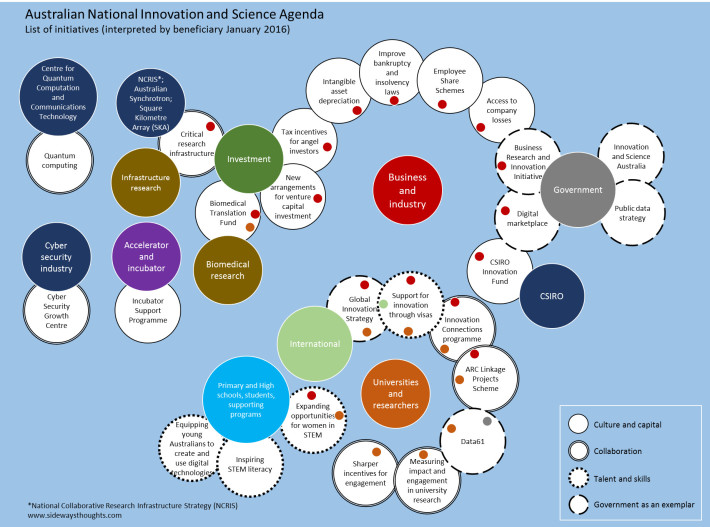 And for those less picture-orientated: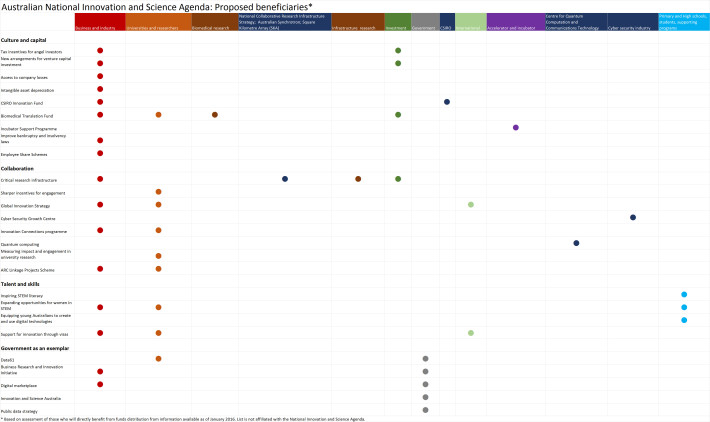 Overall, the initiatives appear to be designed to reduce risk, access capital, encourage collaboration, and improve efficiency and effectiveness of the innovation process.
Business and industry
"Business and industry" is perhaps too broad a category, as perspectives and challenges can be vastly different for a start-up, established small to medium sized enterprise (SME), not for profit, social enterprises, public company, and large corporation. Overall, however, the initiatives apply to different business structures who are considering doing something new and partnering with or supplying to someone else who is.
Some initiatives are for specific sectors, such as the biomedical and infrastructure initiatives. Other initiatives are for companies offering certain services to government, such as the digital marketplace. Still others will be for different stages of their growth pattern, such as offering employees shares or seeking new capital. A range of initiatives encourage collaboration through international, university, and government engagement.
University and researchers
The Agenda acknowledges the need to better release the knowledge developed in universities to the market through collaboration, incubation, and commercialisation. Initiatives like making the Australian Research Council's (ARC) Linkage Projects scheme continuous and the expansion of the Entrepreneurs' Programme into the Innovations Connections Programme aim to make the engagement between universities and business more efficient and effective.  Calling out the need for improved measurement is also encouraging.
It is also good to see an investment to reconcile the gender imbalance in current and future high value technology industries, a topic I have shared thoughts on previously.
Investment
Initiatives that directly target investors are aimed at providing tax incentives for angel investors and a new arrangement for early stage venture capital. That is not to say that investors will not be interested in outcomes from other initiatives, but these two are specifically aimed at opening up additional early-stage investment capital.
International
Cross Australia's borders with the import and export of people, product, services, and knowledge is critical to developing and executing innovation. The support for innovation through visas encourages skills being brought into Australia while the Global Innovation Strategy encourages integration globally as well as in regional Australia.
Accelerator and Incubator
The accelerator and incubator space is growing rapidly. The new form of co-working space and accelerator commercialisation curriculum continues to evolve, replacing what used to happen ad hoc through personal mentoring relationships or structured through corporate and government programs. I expect we will see further centralisation as accelerator brand names expand nationally and programs become more systematised and subscription-based. This will happen more rapidly in city centres where the higher population provides commercial incentives that make the accelerator model more self-sustaining.
Perhaps this is why the Agenda's accelerator and incubator initiative is relatively low at $8 million over three years. My expectation would be that funding preference would be given to the development of accelerators and co-working spaces in areas with fewer commercial drivers, such as regional areas and / or targeted at disadvantaged segments of the community. I imagine there is also an expectation that States and local councils share in the investment in accelerators and incubators either directly to the accelerators or to provide revenue for programs run in the co-working space.
Early education
Many complex challenges in our society will take generations to address. It is encouraging to see specific investment in early education to help address tomorrow's challenges. Young people see the world differently and the initiatives will help build their technical skills to take advantage of that perspective.
We will increasingly have high school students graduating with a fully functioning businesses and going straight into accelerator programs as alternatives to traditional degree pathways. It will be interesting to see universities evolve and adapt based on the outcome from this investment.
Government
Part of the Agenda is an investment by government in itself in areas of structure (through the establishment of Science and Innovation Australia) and systems (with the Public Data Strategy). This is encouraging, as government needs to be agile, efficient and effective if it is to fulfil its role as facilitator of the market. No one wins if the government falls behind. The key is to ensure the drivers are in the right place to find the balance between leading and competing, as we see in initiatives that create clear commercialisation pathways from government funded research.
Specialist organisations
Other recipients from the Agenda are specialist organisations. These include CSIRO, infrastructure organisations, and organisations in cyber-security and quantum computing. These initiatives, along with the previously mentioned biomedical fund, are targeted at specific technologies and programs.  While the funding is directed at these organisations, each has a wide supply chain and commercialisation path that will benefit from the Agenda's investment.
What happens next
We will hear more about the Agenda soon following the government's media campaign in the lead up to June 2016 when most of the programs start rolling out. In the interim, we can ask a few questions:
What is my role in Australian innovation?;
How can I take advantage of the innovation agenda and participate in its success?; and
With what I have available, who can I help?
My personal interest is in integration with State programs such as Advance Queensland, application for schools and investments in the next generation of entrepreneurs, and how to leverage and adapt the initiatives for regional programs and social enterprises.
Building national innovation is a complex challenge, and I give a heartfelt Aussie "good on 'em" for "giving it a go". I expect there are some things that may not be perfect, but I am confident we will learn and grow through the process.
Image credit
If you're different, you stand out 2 by Suvodeb Banerjee https://flic.kr/p/4SHkHY