What do you get when you put Change Makers who make the world a better place with technical people who can turn ideas into reality? You get Random Hacks of Kindness (RHoK). And this June 4-5, 2016, RHoK will be the very first hackathon held in Fire Station 101, the new innovation hub in Ipswich, Queensland!
The Random Hacks of Kindness hackathon is a global initiative for change that started in the United States in 2009, arrived in Australia in 2011, and is now run across 5 locations across the country. Twice a year, charities, social enterprises, not for profits and community groups come as Change Makers to share their passion and challenges with a room full of developers who are keen to give back, learn, and develop new skills.
Why we hack
We "hack" in Random Hacks of Kindness because we know that complex problems are best solved by looking at them from as many different perspectives as possible.  We are "hacking" our own patterns of thinking that direct us to solve new problems with old, proven behaviour patterns.  Tapping into brain science, the novelty of innovation and being in community triggers neurological reward responses.
Research shows that hackathons and doing good make you smile. 🙂
A RHoK weekend brings together people across all skill levels, interests, and experiences. People from diverse backgrounds form teams with a common purpose of making a difference.  Take it from the words used by participants of last November's event: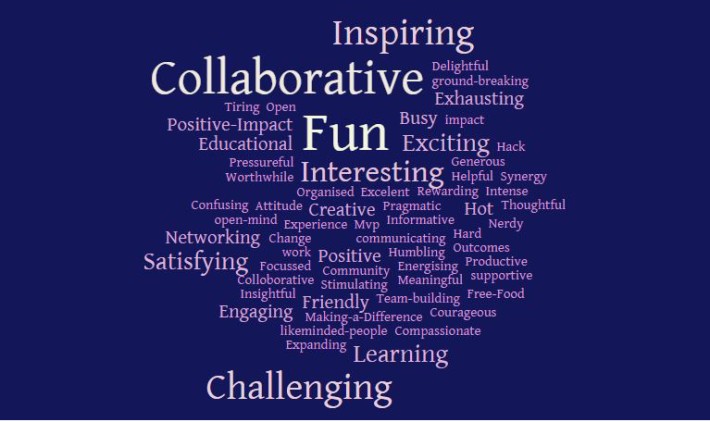 Who is involved
To make Random Hacks of Kindness work, we need Change Makers, Hackers, Volunteers, and Sponsors.
Change Makers
You are a Change Maker if you are part of starting a charity, social enterprise, not for profit or community group and you have a need that can be solved with a technical solution.
Here are some of the questions to think about as a Change Maker: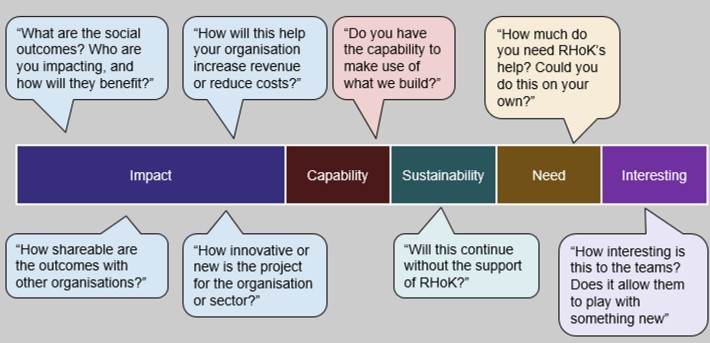 If you want to apply to be a Change Maker in this June's Ipswich RHoK, you can register here:
http://www.rhokaustralia.org/changemakers/
Hackers
Hackers are those with planning, design, technical, and commercial skills who can make ideas become reality.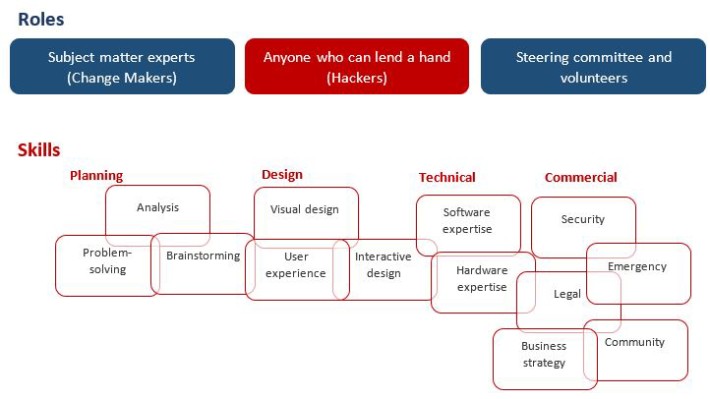 Programmers are key to getting our ideas off the ground, planning people help keep us on track and frame our ideas into something manageable, designers make our ideas usable and engaging, and commercial people ensure the idea is sustainable and effective. Last November, these groups shared three main reasons why they hack:
To make a difference;
To build community and network; and
To learn and build skills.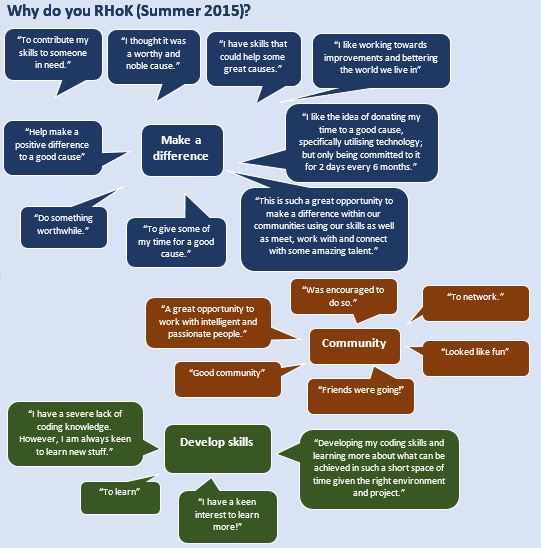 Volunteers
RHoK happens as a result of local volunteers.  Being a part of the local committee is a fantastic opportunity to get to know people, make a difference, develop leadership skills, and be a part of something bigger than yourself.  I can personally thank my RHoK experience for shaping my perspectives and introducing me to many great friends and career colleagues I have today.
In addition to being part of Change Maker teams, volunteers help coordinate things before the event, keep things together during the event including technical support, and help in the wrap up after the event.  Probably my favourite image that represents the spirit of RHoK is the example provided by Bruce below who brought RHoK into Queensland. It helps that he somehow managed to colour coordinate his shorts with the push broom.
Sponsors
RHoK is made possible based on our national sponsors MYOB, DIUS, and REA Group.

We are looking for city sponsors in Ipswich who are keen to be a part of making a sustainable and nationally recognised difference.  If you are interested in what is involved and how we can work together, drop me a line at chad@firestation101.com.au.
We need you!
Over the weekend June 4th and 5th, Random Hacks of Kindness will be running across two locations in Queensland: at QUT in Brisbane and at Fire Station 101 in Ipswich.  We are doing this because we believe that there are plenty of Change Makers that need help and technical people who want to make a difference.
If you want to make change, hack, or just be a part of a great great initiative making a real difference, sign up at the new Meetup for Ipswich RHoK and come along to the dates below:
Ideation and information night: 18 May, 6pm – 8pm
Winter '16 Hackathon: 4-5 June
For those following my ponderings here on Sideways Thoughts, I will continue to share community impact outcomes and lessons learned on the journey.
This is a fantastic new opportunity for local impact and global change.  Please like, share, and be all things social to help get the word out!