The need for regional innovation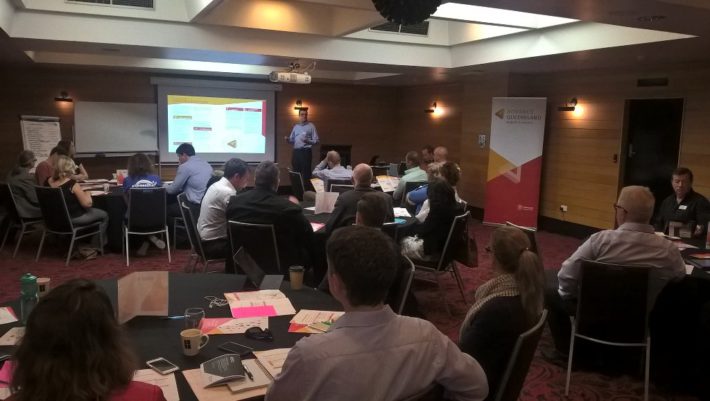 Regional areas can face unique challenges and opportunities.  Compared to major city centres, regions can have low industry diversity, limited access to talent and talent development, and ongoing talent drain as upcoming generations leave the regions for new opportunities. Yet regions also offer unique opportunities for building resilient communities, fostering constraint-based innovation, and leveraging local strengths to create specialist centres of excellence that attract growth.
These challenges and opportunities create what some refer to as a "wicked problem". Contributing factors are embedded, systemic and complex. No single program, intervention, or stakeholder has "the answer", with government, academia, not-for-profit, and commercial sectors each playing a role in supporting and hindering progress. The complexity of these challenges provide an opportunity for collaboration across all groups, including government to facilitate outcomes through programs and policy.
Advanced Queensland Regional Hubs Innovation Program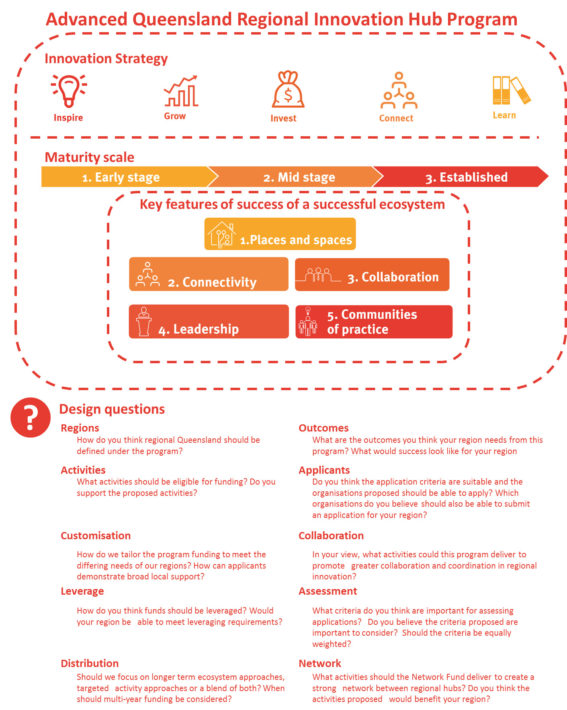 The Queensland government recently released a discussion paper asking for input into how $7.5 million could be applied over three years as part of a Regional Hubs Innovation Program. The paper was supported by workshops across the region and an online survey for regions to contribute to the program implementation.
The discussion paper outlined five key features of success of a successful ecosystem, being: Places and spaces, Connectivity, Collaboration, Leadership, and Communities of practice. These key features are outlined in a three stage maturity scale for early stage, mid-stage, and established.  The program fits into Advanced Queensland's five strategies for innovation to Learn, Grow, Invest, Connect and Inspire. To get input into how to best achieve this, the workshops and accompanying survey sought input into ten design questions relating to: Regions, Outcomes, Activities, Applicants, Customisation, Collaboration, Leverage, Assessment, Distribution, and Networking.
A challenge with government programs is that it can create a dependency parent / child relationship, where programs are done to the region or for the region. Funding can position government as a "parent" with legitimate and reward power, picking winners and losers from potentially cross-purpose regional stakeholders. As soon as there is money on the table, different groups can jockey to make a claim for what is realistically a small amount of money spread across a large land mass over three years.
The opportunity is to apply a community development approach with and ultimately by the region.  The funding is a catalyst to get key stakeholders to define what innovation means for their region.
The success of the Regional Hubs Innovation Program needs to be measured in not how much innovation the money will purchase, but whether there is self-sustaining collaboration and leadership in the region after the program has run its course. Healthy innovation ecosystems are led by entrepreneurs, as Brad Feld outlines in his Boulder, Colorado case study Startup Communities. Government's role is as a feeder to the process, a facilitator of outcomes.
A model for leadership in regional innovation
So practically what does this look like? At the regional level, it means each region defining what innovation leadership looks like for their region rather than being dependent on State government to define it for them by picking winners and losers from funding applications. The challenge, and solution, is bigger than any one party to "lead the charge", be it local council, business association, university, or innovation hub. All stakeholders are needed to tap into the collective wisdom of the region, drawing in external support and expertise as needed.
The end result could be some form of a non-partisan Regional Innovation Association to represent the collective interests of the region.  I am cautious of creating yet another competing group. By the same token, it took State-sponsored funding to get certain people in a room together to have a conversation about innovation for their region. This tells me that something more intentional and focused is needed in the region.
1. The people in the room
The people we need in the room include:
Primary education, including primary schools, secondary school, and programs for school leavers
Secondary education, including university and TAFE or trade schools
Business associations, including Chamber of Commerce
Local government and regional development agencies
Current and successful entrepreneurs
Local physical innovation hubs
Not for profit and social enterprises
Investors
Local corporate and community sector representation, including manufacturing, arts, health, professional services, etc.
Each party plays a role. I propose the role of local council is a public servant to facilitate the conversation and bring people together, but not get in the way of or compete with free market models. Investors are fuel, academia is pipeline, innovation hubs are engines, entrepreneurs are drivers and mentors, corporations commercialise.
There can be cross-over such as when a corporation invests or a local council creates an innovation hub, but they need to acknowledge they are operating in a different space.
Innovation occurs at the cross-section of ideas. A constructive conversation is needed by people with diverse ideas and people who can execute on those ideas.
2. Communities of practice
A region, like a corporation, is not necessarily a community. Innovation applies best to community.  A community is defined by a shared bond that brings people together. A post code is not that bond, unless there is an overarching challenge or opportunity inherent to that region like drought, rapid aspirational growth, or the closure of a major industry.
For example, as Community Manager for Fire Station 101, I am not engaging "Ipswich" in innovation. I am engaging communities of health, arts, small business, large corporate, disabilities, social enterprise, technology, culture diversity, generational diversity, and more. This requires more effort, but the rewards in relevance and personal connection are significant.
Leadership in regional innovation needs to acknowledge and engage these communities of practice, leverage their strengths, and define what innovation looks like to them.  You will almost always find someone from each of the previously mentioned groups (academia, government, investors, entrepreneurs, etc.) who has a passion or skill set for a given community of practice.  Find, equip, and bring these leaders together to see what innovation looks like for each community of practice in a given region.
3. Principle-led
Innovation requires a different mindset than business as usual.  We will not get new results with standard ways of thinking, such as hierarchical leadership, risk-based decision making, self-interest competitiveness, and deferred accountability.
Examples of principles that can be adopted by those leading innovation in a region include:
Act from your accountability. Own what is yours, and let others own and celebrate what is theirs.
Leave hierarchy and ego at the door.
Execute and deliver value. Operate on sprints, avoid another talk-fest.
Give; open the conversation with "how can I help?"
Experiment with an end in mind. We won't get it "right" and need a culture open to failure, but we also need to have an idea of why we are in the room and where we are going.
These are what come top of mind as I consider the distinction between what I see working in the innovation space versus what I experience in institutional settings. The list is by no means comprehensive and there are many leaders in the innovation space with more wisdom and experience than I who could add to and modify the list.  What is important is that those coming around the table agree on a new way of engaging to get different outcomes for their region.
A collective and collaborative response
The best thing about the Advanced Queensland Regional Innovation Hubs Program is not the money.  At best, assuming the State can be considered as 10 to 12 regions, there is around $150k to be applied over each region per year over three years depending how the funds are distributed across the State.  The real value is getting the right people in a room to decide on what innovation looks like for their region.
If the funds result in a few programs and activities that cease when the funding stops,the inititive would be expected to be a one-off program.  If, however, the funds are proven effective in generating additional investment, local leadership, and exponential returns, the potential for similar future regional programs would be likely.
I am encouraged that collectively we will form this group in Ipswich. We had a start following the State-sponsored workshop, and I look forward to the group developing as we move forward.
We will make little progress beyond short-term gains if we as regions engage in the Program with competing self-interest masked as collaboration. If local leaders across all areas come together for a collective and shared purpose outside of themselves, there is significant potential for sustained outcomes in our regions.