I was a ten years old when I first saw the tire swing diagram hanging on the wall of the family printed circuit board manufacturing company.  I wondered in my naivety how each party could get communication so wrong.  Decades later, I have answered my question countless times through my own contribution to mismatched swings.
My experiences have also developed my fundamental belief in Covey's fifth habit, articulated within the digital agency as: "no one wants a website".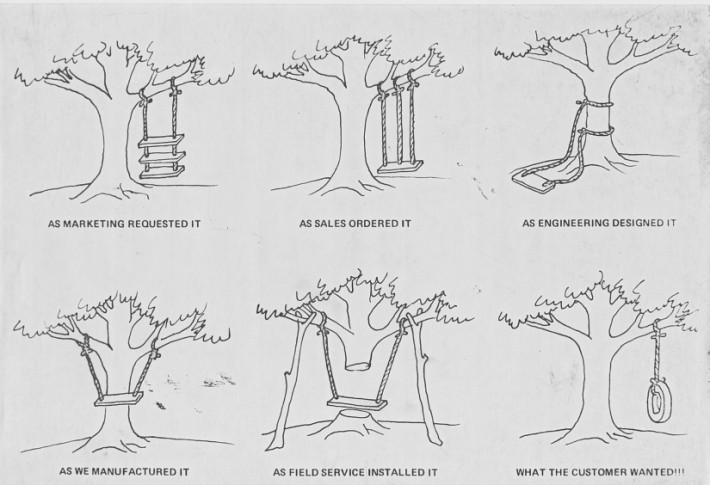 It started with manufacturing printed circuit boards
Two paradoxes are depicted by the tire swing diagram:
Clients don't necessarily want what they ask for, and
Your product or service is likely not what they actually want.
I first learned this lesson when selling printed circuit boards.  I realised that the purchasing agent I was dealing with did not want a printed circuit board.  I could think of no one, in fact, who would actually desire this thin green fibreglass wafer into which we put so much effort to produce.
"Why sell something no one wants?", I asked myself from my remote Texas home-office.  I acted on this revelation and stopped selling printed circuit boards.  Yet my title was "Business Development Manager", I worked for a company that invested heavily in manufacturing these things, and felt I had better be responsible for the money my company was giving me.
This led me to my second discovery, that of the "value proposition".  Rather than decide myself, I let current and prospective customers tell me what I should sell.  Through many miles, meetings, and meals, I gathered around a dozen statements that seemed to be common to various client types.
I was soon able to identify which value propositions mattered to which clients within a 15 minute conversation.  These statements sounded like:
"I want to be able to check on my orders anytime, anywhere"
"I want to be able to track what my staff are purchasing"
"I want short quantity drops at production prices"
"I want an easy transition from prototype to production"
We listened, and acted.  We set up inventory controls that allowed customers to pick stock from overseas production volumes.  We educated overseas manufacturers to pass on learning gained through the prototype process.  I developed an extranet that allowed complete visibility into the quoting, production and stock management process.
Within 6 months, cold calling became one of the best parts of my role.  I had an introduction line of 5 seconds that hinted at the dominant  value propositions I had encountered.  I had stopped selling a product no one, including myself, wanted.  My success rate skyrocketed.
Yet while sales were successful, the family business eventually ceased to be due to assorted reasons involving the September 11th Trade Centre attacks, off-shore competition, debt associated with production capacity, a tight labour market, and the telecommunications bust.  With tail somewhat between legs, we moved to Australia and I tried my hand at this new "Multimedia" thing.
As they say, the more things change, the more they stay the same…
No one wants a website
In 2001, many people believed they wanted a website.  This was based as much on a new industry telling them they wanted a website as it was a perception that everyone else believed the same thing in an "emperor's new clothes" metaphor.  I experienced several bumps and bruises through my career progression of project management and business development before I remembered what I had learned from manufacturing.
I soon discovered that no one wants a website. Back in familiar territory, I followed the same path of value proposition discovery, but felt something was missing.  There had to be a simpler approach.
It took several more years, a stint in environmental consulting, and a business degree before I could clearly articulate the two fundamental objectives of any client.  In the end, clients want to:
Reduce cost; and/or
Increase revenue.
You put those together, you get profit.
With this in mind, I say to you and anyone I meet:
If what we do as suppliers for this great commercial machine does not decrease costs or increase revenue, then we stop now.
The customer didn't want a swing
Returning to our swing analogy, the issue is not that the supply chain failed to understand that the customer wanted a tire swing.  It is that they failed to understand that what the customer really wanted a net increase in happiness-level profit.  If every stakeholder kept this in front of mind, the customer could have gotten something so much better.
The customer is not an expert on swings.  They often have to engage consultants just to have a conversation about swings.  Seeking first to understand their end objective will help decide what kind of swing they require, or if they need a swing in the first place.
I have discovered freedom in my journey through the realisation that I no longer need to promote something the client does not want and that I do not want to sell.  The customer wants their needs met which result in higher profit, and I want to meet that need in a way that is sustainable for both parties.
Digital solutions solve a wide range of business challenges.  We need to first understand the business objectives before applying our prescriptive application of technology.  Ideally, our efforts not only improve our client's profit, but also make the world a better place for all involved.